The Poshard Foundation Receives $19,000 Donation from the George A. Bates Memorial Fund
(Carterville, IL | January 22, 2021)
Jo and Glenn Poshard of the Poshard Foundation for Abused Children, met with Dr. Michael Murray, a trustee of the Bates Foundation, to receive a check for $19,000.
The Poshard Foundation for Abused Children was recently honored with a $19,000 donation from the George A. Bates Memorial Foundation. Dr. Michael Murray, a trustee for the Foundation, presented the check to the founders of the Poshard Foundation, Glenn and Jo Poshard.
This is the third year that Murray was able to garner the support for the Southern Illinois charity that helps heal children's suffering from physical and emotional abuse by providing funds when other funds are not available.
The Bates Foundation, located in Chicago, donates only to 501c3 charitable organizations. The three trustees of the Foundation meet once a year to determine what charities to support.
The Bates Foundation supports about thirteen groups annually with each trustee making a case for the organizations they want to support. This marks the third year in a row that Murray has selected the Poshard Foundation as one of his choices because of the Foundation's dedication to the children of Southern Illinois.
"What I look for in an organization is dedication to their mission and their passion for their cause," said Murray. "I have known Glenn and Jo for years and know firsthand their passion for the cause of abused and neglected children. So I know when I hand this check off, it is in good hands; and, for the third year in a row, the other members of the Foundation agreed."
According to Glenn Poshard, donations of this size are very rare and are greatly appreciated. "This is really important to us for a number of reasons. We don't have a marketing budget nor do we solicit donations from other foundations. Everything we get is by word of mouth," said Poshard. "We don't get these types of grants every day. This money will go a long way and help a lot of children, especially in the midst of the pandemic."
Jo Poshard stated that this donation will go directly to children in need in Southern Illinois. "We have 16 counties with two and a half times the state average of child abuse. We try to bridge the gap for those children and provide for their needs when traditional funding cannot," said Jo Poshard. "When agencies run into a dead-end, they know they can call us to help provide anything from beds to counseling services. These funds will go to help the children-not rent, not salaries-only the children, and we are very grateful to the Bates Foundation."
Contact The Poshard Foundation for Abused Children at John A. Logan College, 700 Logan College Drive, Carterville IL 62918-2500 or by phone at 618-985-2828 x 8564.

(from left), Jo Poshard, Dr. Michael Murray, Glenn Poshard
---
Modern Woodmen of America Presents Toys
(Carterville, IL | December 18, 2020)
Jeff Rushing of Modern Woodmen of America presented the Poshard Foundation toys for children at Christmas valuing over $680.00!
The toys brought smiles to many during the 2020 toy-giveaway!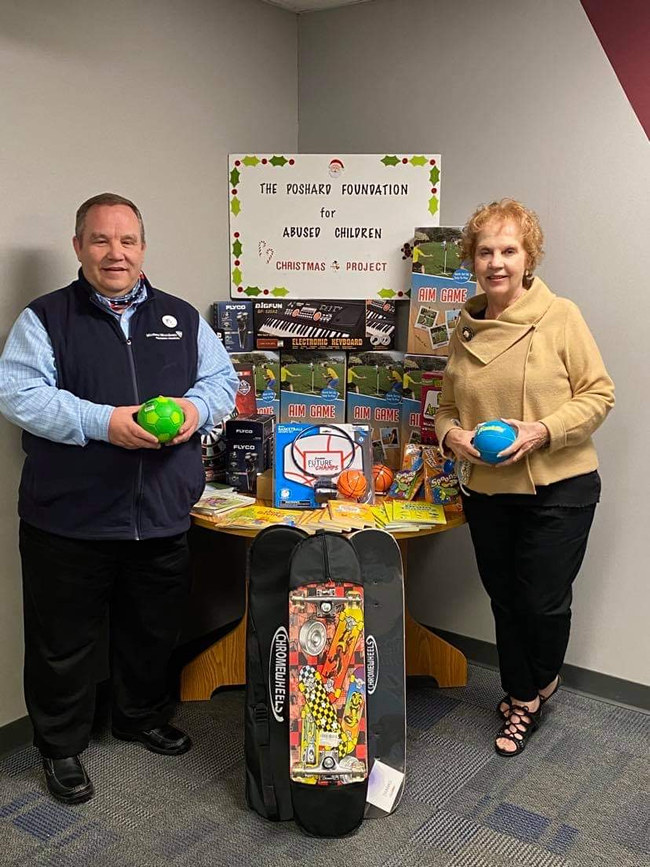 ---
Poshard Foundation Distributes Toys to Abused, Abandoned, and Neglected Children in Southern Illinois
(Carterville, IL | December 18, 2020)
For three days starting on December 9, the Poshard Foundation distributed over two thousand new toys and gifts to abused, abandoned, and neglected children throughout the area. Representatives from social service agencies from Cairo to Centralia visited the Poshard Foundation on the Campus of John A. Logan College to select new toys for the children they serve.
For the fifth year, Richard Clark and Tri-State Business Equipment in Harrisburg partnered with the Foundation to provide gifts to southern Illinois' most vulnerable children.
In addition to Clark and Tri-State Business, the Foundation received funding of $5,000 from Ameren Illinois.
"We want to thank Richard Clark for his continued partnership and the generous contribution from Ameren Illinois said, Jo Poshard. "We also received support from Hangin' by a Thread, BlueCross BlueShield, Modern Woodman of America, and several individual donors that make this event possible, and we can't do it without them."
Poshard added that COVID-19 had devastated many families in the region.
"Caseworkers have identified the children receiving these gifts in the agencies that work with our Foundation, and as you know, this year has been particularly difficult for families," said Poshard. "These children were not on anyone's Christmas list, but they are now!"
If you would like more information about The Poshard Foundation for Abused Children, visit www.poshardfoundation.org.

(from left), Jo Poshard, Tina Gibbs of Ameren Illinois, Glenn Poshard, and Richard Clark of Tri-State Business in Harrisburg
---
SIU Credit Union Gives $17,500 Grant for COVID Assistance
(Carbondale, IL | November 3, 2020)
SIU Credit Union, along with the Federal Home Loan Bank of Chicago, recently awarded COVID Relief Funds to The Poshard Foundation for Abused Children.
As the Pandemic continues to cause difficulty throughout our region, SIUCU knew children would face adverse situations and could use assistance. The Poshard Foundation was awarded $17,500. "It's great to be able to give back to our community and help those organizations who help so many," said Mike Lantrip, CEO. He added, "We appreciate our partnership with the FHLBank Chicago and thank them for recognizing a need to support our communities."
The Poshard Foundation plans to use these funds wherever they are needed during this holiday season to help children and their families with emergency food, supplies, bedding and any other needs that may arise. "The need for assistance is greater than ever right now," said Jo Poshard, Co-Founder of the organization. "These funds will help abused children across our region get through a tough time."
The Poshard Foundation has no paid employees and is all-volunteer, so all donations received go back to the children in our region. They have been a partner with the SIU Credit Union since The Foundation's inception over 22 years ago.
---
Ameren Illinois Donates $65,000 to Poshard Foundation to Help Families Affected by COVID19
(Carterville, IL | October 29, 2020)
Ameren Illinois made a $65,000 contribution to the Poshard Foundation at a ceremony at John A. Logan College on Monday, October 19. The donation was made to help the organization provide essential resources to southern Illinois families impacted by the COVID19 pandemic. The gift was funded by a donation from Ameren Illinois employees and the company's Board of Directors.
"It began in August when our Board of Directors and employees came together to raise funds for people who have been severely impacted by COVID," said Ameren Director of Gas Operations, Brad Kloeppel. "We called the campaign 'The Power of Giving' and I am proud to say that to date, it has raised over eight hundred thousand dollars. We are pleased today to make this donation to the Poshard Foundation.
"This is amazing. Our Foundation doesn't get checks of this magnitude very often," said Jo Poshard. "Some of the ways that we will use this will be for emergency food needs. As well as basic supplies and hygiene products, as well as educational and counseling needs. The most important thing is that it will all be used to help children."
"Our relationship with Ameren goes back for many years. They are not only one of the great companies that serve southern Illinois, but they have also been a company with a heart for these abused, neglected, and abandoned children that we serve," said Glenn Poshard. "We are so grateful for this partnership because it has enabled us to help take care of literally thousands of families in southern Illinois."
In addition to the donation for COVID relief, Jo Poshard announced that Ameren has also pledged $5,000 to the Foundation's annual Christmas toy drive.
"The individual that usually helps provide toys for this event cannot this year due to COVID. We are so thankful for Ameren's generosity to help us continue our Christmas holiday gift giveaway for children."
The Poshard Foundation began in 1999 to help heal abused children physically and emotionally and stop the abuse of children.
John A. Logan College provides office space and amenities to help the Foundation provide funding for children in crisis when other funds are not available.
For more information, contact the Poshard Foundation at 618-985-2828, ext. 8564.

(from left), Tina Gibbs, Ameren; Jo Poshard, Jason Klein, Ameren; Brad Kloeppel, Ameren; Glenn Poshard
---
The Poshard Foundation Announcing 34 Grant Awards to Southern Illinois Agencies Serving Abused and Neglected Children
(Carterville, IL | April 23, 2020)
The Poshard Foundation for Abused Children has been awarded a $300,000 grant by the Illinois COVID-19 Response Fund. Combined with the Foundation's annual spring grants of $100,000, a total of $400,000 will be distributed to the most vulnerable children and families in Southern Illinois.
The Illinois COVID-19 Response Fund was created for the purpose of disbursing funds to nonprofit organizations serving individuals, families and communities hit hardest by the COVID-19 pandemic. The Poshard Foundation will target children and their families in 23 southern Illinois counties through a network of 34 different agencies. In addition, the Poshard Foundation annual grants traditionally given in April in recognition of State and National Child Abuse Awareness will also be dispersed.
"We are so grateful," said Jo Poshard, "for the Illinois COVID-19 Response Fund support. This will enable us to help thousands of children in our area in a very quick timeframe. Our network of organizations is in the process of identifying the children with the greatest needs. The entire $400,000 will be spent on needs to include nutritional food, medical care, basic supplies, family self-care, behavioral and mental health services and other therapeutic necessities for these children."
Glenn Poshard emphasized that children and their families are struggling to survive. "Many of these children come from families of minimum wage earners who are now completely out of work. They don't have sufficient food and normally have to use the hospital emergency room for medical care which is nearly impossible with the coronavirus spread. Since schools have been closed, the children have been basically cut off from counselors, and counselors cannot visit their homes. These children are desperately struggling and need us now more than ever."
"In order to move these resources to the children as quickly as possible through the network of social service agencies, our Foundation has been assisted greatly by the IL-HEALS PARTNERS, Egyptian Health Department, The Stress and Trauma Treatment Center, as well as Southern Illinois University's School of Medicine," said Jo Poshard. "We are beyond grateful for their support."
For over twenty years, Glenn and Jo Poshard, with the help of dedicated volunteers, have raised millions of dollars to support abused, abandoned and neglected children in southern Illinois. No one in the organization receives a salary or expenses, and John A. Logan College provides office space for the Foundation. All funds received go directly to support the children. The Foundation supports a network of over 30 social service organizations and numerous food banks across Southern Illinois.
The following network of agencies and organizations will be participating in the distribution of these resources to children and families:
Baptist Children's Home, Carmi
Boys & Girls Clubs of Southern Illinois
Cairo Women's Shelter
Caritas Family Solutions, Carterville
Caritas Family Solutions, Mt. Vernon
CASA of Franklin and Hamilton Counties
CASA of Jefferson County
CASA of Saline County
CASA of Williamson County
Centerstone
Children's Home and Aid, Herrin
Children's Medical and Mental Health Resource Network, Anna
Egyptian Health Department, Eldorado
Family Counseling Center, Golconda
Foster Family Resource Center of Southern Illinois
Franklin-Williamson Child Advocacy Center
Healthy Families Illinois - Shawnee Health Service
Hoyleton Youth & Family Services
Illinois Department of Children and Family Services, Southern Region
Lutheran Social Services of Illinois, Marion
Lutheran Social Services of Illinois Prison & Family Ministry
Perry County Counseling
Perry-Jackson Child Advocacy Center
Pregnancy Matters, Carbondale and Marion
Southern Illinois Coalition for the Homeless
Southern Seven Health Department, Ullin
Spero Family Services, Mt. Vernon and Murphysboro
Stress and Trauma Treatment Center, Inc., Eldorado
The Amy Center, Mt. Vernon
The Guardian Center, Carmi
The Night's Shield, West Frankfort
The Women's Center, Carbondale
Two Rivers Child Advocacy Center, Anna
Union County Counseling
---
Poshard Foundation Funds Food Pantries in Southern Illinois
(Carterville, IL | March 13, 2020)
In anticipation of the coronavirus outbreak closing schools and putting pressure on area food pantries to provide emergency assistance to more needy children, the Poshard Foundation has distributed $50,000 in grants to 28 area pantries across 16 southern Illinois counties. The grants range from $1,000 to $3,000 depending upon the number of children being served. In addition, the grants require the purchase of food which supports the nutritional needs of children.
"A couple of thousand dollars to a local pantry may not sound like much, but often the pantry can use that money to leverage greater purchasing power with federal food banks and other organizations with whom they work," said Glenn Poshard.
"We wanted to get ahead of the curve because it looks like this virus may be long lasting. Federal and state legislation is already emphasizing food security for children who, due to school closings, are home and are not having regular meals through the schools."
Jo Poshard said, "I want the Foundation's support to act as seed money in the hope that other business, labor, and community groups will support their local food pantries and help out in case this crisis gets much worse. If necessary, our Foundation will distribute another round of grants in the near future depending on how severe the need grows, but we're hoping many others will chip in."
Area food pantries receiving grants from the Poshard Foundation include:
Ava-Trico Area Food Pantry
Benton-West City Ministerial Alliance Food Pantry
Bethel Temple Evangelistic Ministries Food Pantry (Mounds)
Carterville United Pantry
Christian Community Compassion Center, Inc. (Harrisburg)
City of Hurst Emergency Food Bank
COPE - Christian Outreach Program Emergency (Metropolis)
Daystar Community Program (Cairo)
DuQuoin Food Pantry
Gallatin County Food Pantry (Shawneetown)
Good Samaritan Ministries Food Pantry (Carbondale)
Goreville Ministerial Alliance
Grand Tower Township Food Pantry
Greater Galatia Ministerial Alliance Food Pantry
Harvest Deliverance Center Lamb's Providence Food Pantry (Harrisburg)
Herrin Community Food Pantry
Herrin House of Hope
Marion Ministerial Alliance
Ministry for the Broken Hearted Food Pantry (Christopher)
Mt. Vernon Rescue Mission
Murphysboro Food Pantry
Shawnee Development Council, Inc. (Karnak)
The Promise (Marion)
The Roads Church Pantry (Norris City)
Thompsonville Community of Christ Food Pantry
Turning Point Church Hands of Hope Food Pantry (McLeansboro)
Victory Dream Center (Carbondale)
Vienna First Baptist Church Food Pantry
---
Poshard Foundation Receives $5000 grant from Ameren Illinois
(Carterville, IL | November 19, 2019)
To help make the holidays a little brighter for local children in need in need, the Poshard Foundation for Abused Children has received a $5,000 grant from Ameren Illinois to support their Holiday Gifts for Kids programs and Camps for Kids.
"Both programs offer great experiences for abused, abandoned and neglected children who otherwise would not be able to receive a gift on Christmas morning or attend summer camp," said Director Jo Poshard of The Poshard Foundation. "The programs offer positive memories the kids can cherish forever; we are so grateful to Ameren Illinois for awarding us this grant."
For more than 20 years, the foundation has lived its belief that every child deserves a safe place, a safe person and a safe community. Many of these children have experienced abuse or trauma, so these programs will not only help put a smile on their faces but also help build confidence and lessen anxiety.
The grant funds were awarded through the Ameren Cares program, which connects Ameren Illinois with the communities it serves through charitable giving and volunteering. Tina Gibbs, community relations coordinator for Ameren Illinois presented the foundation with the contribution to help improve the quality of life for children.
"The Poshard Foundation has been a staple in our community for years. We are grateful for the work they do and proud to support their efforts as they enrich the lives of our community's less fortunate children," said Tina Gibbs, Community Relations Coordinator at Ameren Illinois.
For more information on The Poshard Foundation, visit poshardfoundation.org or call 618-985-2828 ext. 8564.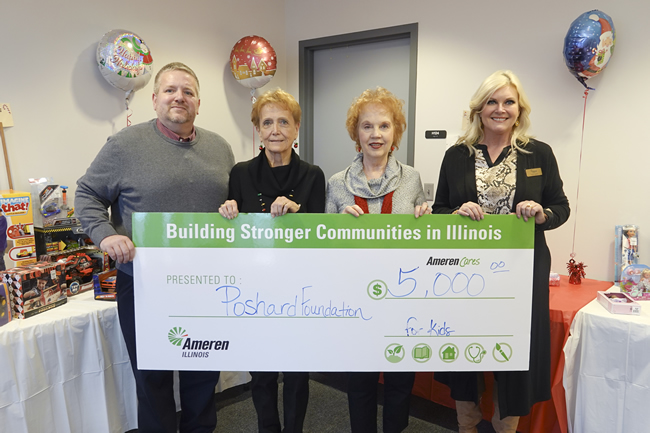 (from left), Jason Simac, Ameren Illinois Sr. Manager of Operations for Division 6 South; Phyllis McCowen, Poshard Foundation Volunteer; Jo Poshard, Poshard Foundation Director; Tina Gibbs, Ameren Illinois Community relations Coordinator
---
Please help us raise money for abused, abandoned, and neglected children in Southern Illinois, with a secure credit/debit card donation.