Bates Foundation Awards $25,000 to the Poshard Foundation for Abused Children
(Carterville, IL | February 10, 2023)
The Poshard Foundation for Abused Children was recently honored with a $25,000 donation from the George A. Bates Memorial Foundation. Dr. Michael Murray, a trustee for the Foundation, presented the check to the founders of the Poshard Foundation, Glenn and Jo Poshard.
This is the fourth year that Murray, one of three trustees on the Foundation, was able to garner support for the southern Illinois charity that helps heal children suffering from physical and emotional abuse by providing funds when other funds are unavailable.
The Bates Foundation, located in Chicago, donates only to 501c3 charitable organizations. The three trustees of the Foundation meet once a year to determine what charities to support. The Foundation supports about 15 groups annually, with each trustee making a case for the organizations they want to help.
"What I look for in an organization is a dedication to their mission and their passion for their cause," said Murray. "I have known Glenn and Jo for years and know firsthand their passion for the cause of abused and neglected children. So I know when I hand this check-off, it is in good hands, and for the fourth year in a row, the other members of the Foundation agreed." According to Glenn Poshard, donations of this size are not typical and are greatly appreciated.
"This is important to us for several reasons. We don't have a marketing budget or solicit donations from other foundations, and everything we get is by word of mouth," said Poshard. "We don't get these grants every day; it will go a long way and help many children."
Jo Poshard stated that this donation would go directly to children in need in southern Illinois.
"In southern Illinois, we have 15 or 16 counties that have two and half times the state average of child abuse. We try to bridge the gap for those children and get them the things that traditional funding cannot get them," said Jo Poshard. "So when agencies run into a dead-end, they know they can call us to help provide anything from beds to counseling services. It can even be a new pair of shoes to wear to court to testify against their perpetrator. These funds will help the children, not rent, not salaries, just the children, and we are very grateful to the Bates Foundation."
You may contact The Poshard Foundation for Abused Children at Poshard Foundation for Abused Children 700 Logan College Drive, Carterville, IL 62918-2500, or by phone at (618) 985-2828 ext. 8564.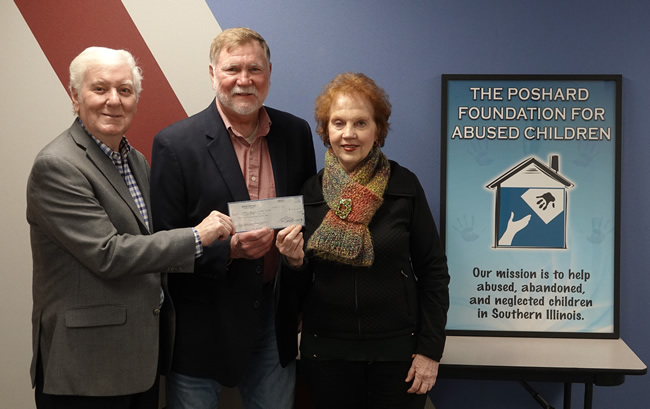 L - R: Glenn Poshard, Michael Murray, and Jo Poshard.
---
The Poshard Foundation Announcing Toy Distribution through Southern Illinois Agencies Serving Abused, Abandoned and Neglected Children
(Carterville, IL | December 5, 2022)
On Wednesday, December 7th, social service agencies across Southern Illinois will be visiting the Poshard Foundation for Abused Children at John A. Logan College for one of the largest Christmas toy giveaways in the region. About two thousand brand new toys and gifts will be distributed to approximately 600 abused, abandoned and neglected children throughout 12 counties in Southern Illinois. Distribution of the toys will begin at 11:00 a.m. on Wednesday, December 7th. Toys will be distributed over a two-day period.
Partnering with The Poshard Foundation is Ameren Illinois which has provided funding for gifts in the past, and in recent years has contributed $5000 annually toward the project.
The children receiving gifts are identified by agency caseworkers who work with the Poshard Foundation.
"We want to thank Ameren Illinois for their partnership again this year as well as Hangin' by a Thread, BlueCross BlueShield, Modern Woodmen of America, Richard Clark of Tri-State Business Equipment, Auto Credit of Southern Illinois and our individual donors. These children were not on anyone's Christmas list but they are now. We hope these gifts bring smiles to many faces," said Poshard.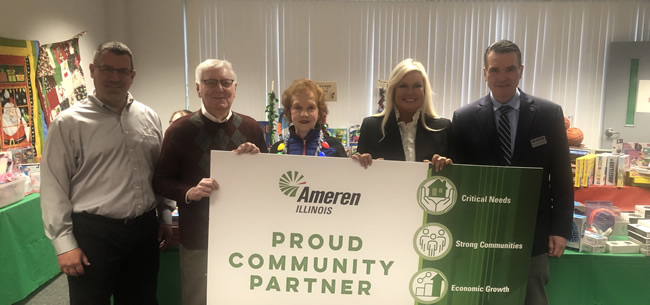 Ameren Illinois representatives donate $15,000 to the Poshard Foundation for Christmas gifts and unmet end-of-the-year needs of abused children Thank you to Ameren for our invaluable partnership and desire to help the children over many years!
---
Please help us raise money for abused, abandoned, and neglected children in Southern Illinois, with a secure credit/debit card donation.