Poshard Foundation Holds 2021 Child Abuse Prevention Month Kick-off
(Carterville, IL | April 1, 2021)
On April 1st, Prevent Child Abuse Illinois and the Illinois Department of Children and Family Services, in partnership with The Poshard Foundation for Abused Children and other community organizations, held a press conference to launch April Child Abuse Prevention Month 2021.
Guest speakers included Dr. Kirk Overstreet, President, John A. Logan College; Jo Poshard, Executive Director, The Poshard Foundation for Abused Children; Brittney Hale, Program Assistant, Prevent Child Abuse Illinois; Wendy Ingersoll, Illinois Department of Children and Family Services; Joe Cervantez, Jackson County States Attorney; and Christy Solverson, Circuit Judge First Judicial Circuit, Presiding Judge Jackson County. Dr. Overstreet read a proclamation regarding the prevention of child abuse and neglect from Governor Pritzker.
"We are truly in unprecedented times. The COVID 19 pandemic has taken a toll on each of us and continues to impact our children and families. We've all experienced increased stress and disruption in our normal routines," said Denise McCaffrey, Executive director of Prevent Child Abuse Illinois. "This year, more than ever, it is important that we raise awareness about child abuse prevention and create positive supports for parents and caregivers. April is the perfect time to share the message that all children deserve happy, healthy childhoods, and we all have a responsibility and a role in protecting children."
Child Abuse Prevention Month has been observed each April since its first presidential proclamation in 1983. Since that time, millions of Americans have participated in this national campaign. Individuals, organizations, and communities across the United States plant pinwheels, tie ribbons, organize training, host fundraisers, and support a multitude of other activities celebrating healthy, happy childhoods and raising awareness that all children deserve to grow up in nurturing safe homes.
"This year has been challenging for all of us, but it's also been a year of people and communities coming together to support each other," said Illinois DCFS Acting Director Marc D. Smith. "By texting a friend to ask how they are doing, delivering groceries to a neighbor in need, or staying on a video call for a few extra minutes so a child can tell you about their day, we are all doing our part to strengthen families - and when families are strong, children are safer."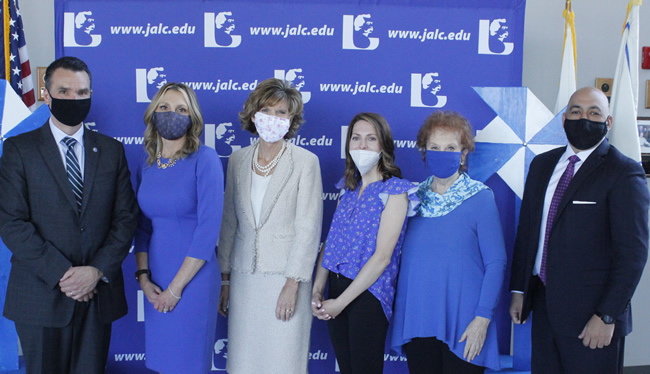 L-R: JALC President, Dr. Kirk Oversteet; Wendy Ingersoll, Illinois Department of Children and Family Services; Honorable Christy Solverson, Circuit Judge, First Judicial Circuit, Presiding Judge Jackson County; Brittney Hale, Prevent Child Abuse Illinois; Jo Poshard, Executive Director Poshard Foundation, Joe Cervantez, Jackson County States Attorney.
---
Poshard Foundation Distributes over $100,000 to 42 Southern Illinois Food Pantries
(Carterville, IL | February 18, 2021)
"For twenty-two years, the mission of our Foundation has been the protection and healing of vulnerable children, particularly the abused, neglected and abandoned," said Glenn Poshard. "If the coronavirus has taught us anything over the past year, it's this certainty: It's difficult to heal a broken spirit if the family and the children are hungry. We have never before witnessed food insecurity at this level. With this $100,000 distribution we will have given out nearly $175,000 to area food banks since the pandemic began. We are so thankful to have the dedicated workers in our food banks and our social service agencies who combine their efforts in bringing healing to the whole child. To the extent that our Foundation can be a part of that healing process for both the body and the spirit, we are grateful," Poshard added.
Jo Poshard said, "Every year, we make a little more progress in helping these children overcome their fears and insecurities. Last year was the most difficult year yet, and 2021 may be equally difficult. But we can't give up on the children no matter how bad it gets. Our commitment is to be there for the children of Southern Illinois, to continue the work with our dedicated volunteers and support every child that needs us."
Area food pantries receiving grants from the Poshard Foundation include:
Benton-West City Ministerial Alliance Food Pantry
Bethel Temple Evangelistic Ministries Food Pantry (Mounds)
Cambria Food Bank
Carterville United Pantry
Centralia Community Benevolent Association
Chester Area Christian Food Pantry
Christian Community Compassion Center, Inc. (Harrisburg)
City of Hurst Emergency Food Bank
COPE - Christian Outreach Program Emergency (Metropolis)
Crosswalk Community Action Agency Food Pantry (West Frankfort)
Daystar Community Program (Cairo)
DuQuoin Food Pantry
Faith Liberty Mission Church and Food Pantry (DuQuoin)
Friends of Jesus Food Pantry - Equality Methodist Church
God's Pantry - Caledonia Community Church (Olmsted)
Good Samaritan Ministries Food Pantry (Carbondale)
Goreville Ministerial Alliance Food Pantry
Greater Galatia Food Pantry
Hands of Hope Food Pantry (Turning Point Church) (McLeansboro)
Harvest Deliverance Center Lamb's Providence Food Pantry (Harrisburg)
Herrin Community Food Pantry
Herrin House of Hope
JC Manna Mission (Johnston City)
Jesus es el Senor United Methodist Church Food Pantry (Cobden)
Least of the Brethren Ministry (Pinckneyville)
Loaves and Fishes (Anna United Methodist Church)
Marion Ministerial Alliance
Ministry for the Broken-Hearted Food Pantry (Christopher)
Murphysboro Food Pantry
Park Avenue Baptist Church Food Pantry (Mt. Vernon)
Roads Church Pantry (Norris City)
St. Kateri Parish Snackpack Program (Ridgway)
Salem Lutheran Church Food Pantry (Jonesboro)
Sesser-Valier Area Lifeline (Sesser)
Shawnee Development Council, Inc. (Karnak)
Sparta Area Food Pantry
The Promise (Marion)
Thompsonville Community of Christ Food Pantry
Victory Dream Center (Carbondale)
Vienna First Baptist Church Food Pantry
We Love White County (Carmi)
Whiteash Food Bank (Marion)
---
The Poshard Foundation Receives $19,000 Donation from the George A. Bates Memorial Fund
(Carterville, IL | January 22, 2021)
Jo and Glenn Poshard of the Poshard Foundation for Abused Children, met with Dr. Michael Murray, a trustee of the Bates Foundation, to receive a check for $19,000.
The Poshard Foundation for Abused Children was recently honored with a $19,000 donation from the George A. Bates Memorial Foundation. Dr. Michael Murray, a trustee for the Foundation, presented the check to the founders of the Poshard Foundation, Glenn and Jo Poshard.
This is the third year that Murray was able to garner the support for the Southern Illinois charity that helps heal children's suffering from physical and emotional abuse by providing funds when other funds are not available.
The Bates Foundation, located in Chicago, donates only to 501c3 charitable organizations. The three trustees of the Foundation meet once a year to determine what charities to support.
The Bates Foundation supports about thirteen groups annually with each trustee making a case for the organizations they want to support. This marks the third year in a row that Murray has selected the Poshard Foundation as one of his choices because of the Foundation's dedication to the children of Southern Illinois.
"What I look for in an organization is dedication to their mission and their passion for their cause," said Murray. "I have known Glenn and Jo for years and know firsthand their passion for the cause of abused and neglected children. So I know when I hand this check off, it is in good hands; and, for the third year in a row, the other members of the Foundation agreed."
According to Glenn Poshard, donations of this size are very rare and are greatly appreciated. "This is really important to us for a number of reasons. We don't have a marketing budget nor do we solicit donations from other foundations. Everything we get is by word of mouth," said Poshard. "We don't get these types of grants every day. This money will go a long way and help a lot of children, especially in the midst of the pandemic."
Jo Poshard stated that this donation will go directly to children in need in Southern Illinois. "We have 16 counties with two and a half times the state average of child abuse. We try to bridge the gap for those children and provide for their needs when traditional funding cannot," said Jo Poshard. "When agencies run into a dead-end, they know they can call us to help provide anything from beds to counseling services. These funds will go to help the children-not rent, not salaries-only the children, and we are very grateful to the Bates Foundation."
Contact The Poshard Foundation for Abused Children at John A. Logan College, 700 Logan College Drive, Carterville IL 62918-2500 or by phone at 618-985-2828 x 8564.

(from left), Jo Poshard, Dr. Michael Murray, Glenn Poshard
---
Please help us raise money for abused, abandoned, and neglected children in Southern Illinois, with a secure credit/debit card donation.