The Poshard Foundation Announcing $114,500 in Donations to 58 Southern Illinois Food Pantries
(Carterville, IL | November 9, 2023)
At this time of the year area food pantries are struggling, especially to provide nutritious food for the children they serve. In the past the Poshard Foundation has distributed hundreds of thousands of dollars to food pantries with the condition the money be used to purchase fresh, highly nutritious food for children.
"With this $114,500 distribution to pantries, we will have given out over $400,000 during the past two years alone to help feed the children. In working with vulnerable children for over twenty-four years, we know that good nutrition is part of the healing process. We ask participating pantries to give us their strategies for getting the food into the hands of children," said Jo Poshard.
"Only a few months ago, we gave our annual grants to social service agencies that are working to heal the emotional and psychological damage inflicted on many southern Illinois children, but our first step is to help heal the hunger," said Glenn Poshard.
"A two or three thousand dollar grant to a local pantry may not sound like much, but often the pantry can use that money to leverage greater purchasing power with federal food banks and other organizations with whom they work," added Jo Poshard.
Area food pantries receiving grants from the Poshard Foundation include:
Arrowleaf Client Choice Food Pantry, Cairo
Ava-Trico Area Food Pantry
Benton/West City Ministerial Alliance
Bethany Village, Anna
Bethel Temple Evangelistic Ministries, Mounds
Blessings in a Backpack, Johnson County
Cambria Food Pantry
Centralia Community Benevolent Association
Cherry Street General Baptist Church Food Pantry, Carmi
Chester Area Christian Food Pantry
Christian Community Compassion Center, Harrisburg
City of Hurst Emergency Food Bank
Community United Pantry, Carterville
COPE - Christian Outreach Program Emergency Food Pantry, Metropolis
Crosswalk Community Action Agency, West Frankfort
Du Quoin Food Pantry
Emmanuel Temple Ministries, Metropolis
Faith Liberty Mission Church Food Pantry, Du Quoin
Friends of Jesus Food Pantry, Equality
Gallatin County Food Pantry, Shawneetown
God's Pantry - Caledonia Community Church, Olmsted
Good Samaritan Ministries, Carbondale
Goreville Ministerial Alliance
Grand Tower Food Pantry
Greater Galatia Food Pantry
Hands of Hope, McLeansboro
Herrin Community Pantry
Herrin House of Hope
Hope's Entourage, Inc., Mt. Vernon
JC Manna Mission, Johnston City
Jesus es el Senor UMC - Joe's Mall Food Pantry, Cobden
K-Lees Food Pantry NFP, Goreville
Landmark House of Praise, Harrisburg
K-Lees Food Pantry NFP, Goreville
Least of the Brethren Ministry, Pinckneyville
Loaves and Fishes at Anna United Methodist Church
Marion Ministerial Alliance
Murphysboro Food Pantry, Inc.
Park Avenue Baptist Church Food Pantry, Mt. Vernon
Purpose House Church - Love Goes Outreach Program, Colp
Refuge Temple Food Bank, Marion
Roads Church Pantry, Norris City
St. Kateri Snackpack Program, Ridgway
Salem Food Pantry, Jonesboro
Sesser Valier Area Lifeline
724 Ministries, Murphysboro
Shawnee Development Council, Inc., Karnak
Sparta Food Pantry
The Promise, Marion
Thebes Food Pantry
Thompsonville Community of Christ Food Pantry
Trinity Assembly of God Food Pantry, Olive Branch
Victory Dream Center, Carbondale
Vienna First Baptist Church
Waltonville Free Will Baptist Church
Wayne County WADI
We Love White County, Carmi
Whiteash Free Will Baptist Church Food Bank, Marion
Willliamson Baptist Association, Marion

---
The Poshard Foundation Announcing 29 Grant Awards to Southern Illinois Agencies Serving Abused and Neglected Children
(Carterville, IL | April 24, 2023)
As part of Child Abuse Prevention Month, Jo Poshard, Director of The Poshard Foundation for Abused Children, will announce grants for over $100,000 at a press conference on Thursday, April 27, 2023, 1:00 p.m. in the Board Conference Room at John A. Logan College. Agency representatives will be available to the press for comment.
A total of 29 grants will be given to Southern Illinois agencies to be used specifically for services directly dealing with abused, abandoned and neglected children in our region. Those organizations are:
Arrowleaf, Vienna
Baptist Children's Home and Family Services, Carmi
Boys & Girls Clubs of Southern Illinois
Cairo Women's Shelter, Inc.
Caritas Family Solutions, Carterville
Caritas Family Solutions, Mt. Vernon
CASA of Franklin and Hamilton Counties
CASA of Jefferson County
CASA of Saline County
CASA of South Central Illinois
Centerstone, West Frankfort
Children's Home and Aid, Herrin
Children's Medical and Mental Health Resource Network, Anna
Clarity Women's Care, Carbondale and Marion
Foster Family Resource Center of Southern Illinois, Carbondale
Franklin-Williamson Child Advocacy Center, Herrin
Healthy Families Illinois - Shawnee Health Service, Carterville
Hoyleton Youth & Family Services
Lutheran Social Services of Illinois, Marion
Lutheran Social Services of Illinois Prison & Family Ministry, Marion
Perry-Jackson Child Advocacy Center, Pinckneyville
Southern Illinois Coalition for the Homeless, Marion
Spero Family Services, Mt. Vernon and Murphysboro
Stress and Trauma Treatment Center, Inc., Eldorado
Survivor Empowerment Center, Carbondale
The Amy Center, Mt. Vernon
The Guardian Center, Carmi
The Night's Shield, West Frankfort
Two Rivers Child Advocacy Center, Anna

Jo Poshard noted, "April is state and national Child Abuse Prevention Month. Our Foundation distributes these grants in April to draw attention to the plight of abused children in Southern Illinois and to remind the public that child abuse exists twelve months a year...not only in April. We must be vigilant year-round."
"It has been our mission for twenty-four years to help the abandoned, neglected and abused children of Southern Illinois to overcome their abuse and return to a more normal childhood through counseling, medical intervention, food security and recreational activities. These grants, administered by our committed social service workers, serve that purpose." - Glenn Poshard
Glenn and Jo Poshard, co-founders of the Poshard Foundation, believe every child deserves a safe person, a safe place, and a safe community. Unfortunately, that is not the reality for many of our children in Southern Illinois. The abused, neglected, and abandoned ones are those the Poshard Foundation seeks to help. Whether it is by providing counseling, cribs, therapeutic camps, supplies for college-bound foster children, or training for the prevention of violence against children, the Foundation strives to make a difference in young lives.
---
Bates Foundation Awards $25,000 to the Poshard Foundation for Abused Children
(Carterville, IL | February 10, 2023)
The Poshard Foundation for Abused Children was recently honored with a $25,000 donation from the George A. Bates Memorial Foundation. Dr. Michael Murray, a trustee for the Foundation, presented the check to the founders of the Poshard Foundation, Glenn and Jo Poshard.
This is the fourth year that Murray, one of three trustees on the Foundation, was able to garner support for the southern Illinois charity that helps heal children suffering from physical and emotional abuse by providing funds when other funds are unavailable.
The Bates Foundation, located in Chicago, donates only to 501c3 charitable organizations. The three trustees of the Foundation meet once a year to determine what charities to support. The Foundation supports about 15 groups annually, with each trustee making a case for the organizations they want to help.
"What I look for in an organization is a dedication to their mission and their passion for their cause," said Murray. "I have known Glenn and Jo for years and know firsthand their passion for the cause of abused and neglected children. So I know when I hand this check-off, it is in good hands, and for the fourth year in a row, the other members of the Foundation agreed." According to Glenn Poshard, donations of this size are not typical and are greatly appreciated.
"This is important to us for several reasons. We don't have a marketing budget or solicit donations from other foundations, and everything we get is by word of mouth," said Poshard. "We don't get these grants every day; it will go a long way and help many children."
Jo Poshard stated that this donation would go directly to children in need in southern Illinois.
"In southern Illinois, we have 15 or 16 counties that have two and half times the state average of child abuse. We try to bridge the gap for those children and get them the things that traditional funding cannot get them," said Jo Poshard. "So when agencies run into a dead-end, they know they can call us to help provide anything from beds to counseling services. It can even be a new pair of shoes to wear to court to testify against their perpetrator. These funds will help the children, not rent, not salaries, just the children, and we are very grateful to the Bates Foundation."
You may contact The Poshard Foundation for Abused Children at Poshard Foundation for Abused Children 700 Logan College Drive, Carterville, IL 62918-2500, or by phone at (618) 985-2828 ext. 8564.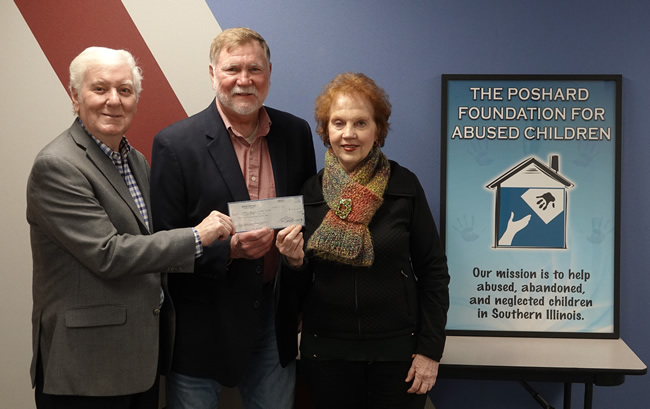 L - R: Glenn Poshard, Michael Murray, and Jo Poshard.
---
The Poshard Foundation Announcing Toy Distribution through Southern Illinois Agencies Serving Abused, Abandoned and Neglected Children
(Carterville, IL | December 5, 2022)
On Wednesday, December 7th, social service agencies across Southern Illinois will be visiting the Poshard Foundation for Abused Children at John A. Logan College for one of the largest Christmas toy giveaways in the region. About two thousand brand new toys and gifts will be distributed to approximately 600 abused, abandoned and neglected children throughout 12 counties in Southern Illinois. Distribution of the toys will begin at 11:00 a.m. on Wednesday, December 7th. Toys will be distributed over a two-day period.
Partnering with The Poshard Foundation is Ameren Illinois which has provided funding for gifts in the past, and in recent years has contributed $5000 annually toward the project.
The children receiving gifts are identified by agency caseworkers who work with the Poshard Foundation.
"We want to thank Ameren Illinois for their partnership again this year as well as Hangin' by a Thread, BlueCross BlueShield, Modern Woodmen of America, Richard Clark of Tri-State Business Equipment, Auto Credit of Southern Illinois and our individual donors. These children were not on anyone's Christmas list but they are now. We hope these gifts bring smiles to many faces," said Poshard.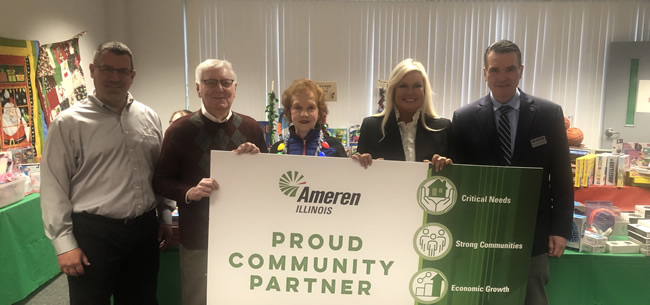 Ameren Illinois representatives donate $15,000 to the Poshard Foundation for Christmas gifts and unmet end-of-the-year needs of abused children Thank you to Ameren for our invaluable partnership and desire to help the children over many years!
---
Please help us raise money for abused, abandoned, and neglected children in Southern Illinois, with a secure credit/debit card donation.