The Poshard Foundation Announcing 30 Grant Awards to Southern Illinois Agencies Serving Abused and Neglected Children
(Carterville, IL | April 26, 2022)
As part of Child Abuse Prevention Month, Jo Poshard, Director of The Poshard Foundation for Abused Children, will announce grants for over $100,000 at a press conference on Friday, April 29, 2022, 1:00 p.m. in the Board Conference Room at John A. Logan College.
A total of 30 grants will be given to Southern Illinois agencies to be used specifically for services directly dealing with abused, abandoned and neglected children in our region. Agency representatives will be available to the press for comment as well as Jo and Glenn Poshard. Those organizations receiving grants are:
Arrowleaf, Vienna
Baptist Children's Home and Family Services, Carmi
Boys & Girls Clubs of Southern Illinois
Cairo Women's Shelter
Caritas Family Solutions, Carterville
Caritas Family Solutions, Mt. Vernon
CASA of Franklin and Hamilton Counties
CASA of Jefferson County
CASA of Marion County
CASA of Saline County
CASA of Williamson County
Centerstone
Children's Home and Aid, Herrin
Children's Medical and Mental Health Resource Network, Anna
Foster Family Resource Center of Southern Illinois, Carbondale
Franklin-Williamson Child Advocacy Center, Herrin
Healthy Families Illinois - Shawnee Health Service, Carterville
Hoyleton Youth & Family Services
Lutheran Social Services of Illinois, Marion
Lutheran Social Services of Illinois Prison & Family Ministry, Marion
Perry-Jackson Child Advocacy Center, Pinckneyville
Pregnancy Matters, Carbondale and Marion
Southern Illinois Coalition for the Homeless, Marion
Spero Family Services, Mt. Vernon and Murphysboro
Stress and Trauma Treatment Center, Inc., Eldorado
Survivor Empowerment Center (formerly The Women's Center, Carbondale)
The Amy Center, Mt. Vernon
The Guardian Center, Carmi
The Night's Shield, West Frankfort
Two Rivers Child Advocacy Center, Anna
Jo Poshard noted, "April is state and national Child Abuse Prevention Month. Our Foundation distributes these grants in April to draw attention to the plight of abused children in Southern Illinois and to remind the public that child abuse exists twelve months a year, not only in April. We must be vigilant year-round."
"We are excited to be returning to a somewhat more normal time since the effects of the pandemic have lessened. It has been our mission for twenty-three years to help the abandoned, neglected and abused children of Southern Illinois to overcome their abuse and return to a more normal childhood through counseling, medical intervention, food security and recreational activities. These grants, administered by our committed social service workers, serve that purpose," added Glenn Poshard, co-founder of the Foundation.
Glenn and Jo Poshard, co-founders of the Poshard Foundation, believe every child deserves a safe person, a safe place, and a safe community. Unfortunately, that is not the reality for many of our children in Southern Illinois. The abused, neglected, and abandoned ones are those the Poshard Foundation seeks to help. Whether it is by providing counseling, cribs, therapeutic camps, supplies for college-bound foster children, or training for the prevention of violence against children, the Foundation strives to make a difference in young lives.
---
The Poshard Foundation Announcing $100,000 in Donations to Southern Illinois Food Pantries
(Carterville, IL | April 6, 2022)
This is one of the most difficult times of the year for area food pantries. The goodwill of Christmas and New Year's giving has significantly decreased, and the pantries struggle to get nutritious food which hungry children need.
"With this $100,000 distribution to 50 food pantries, we will have given out nearly $300,000 over the past two years to help feed the children. In working with vulnerable children over the past twenty-three years, we know that nutritious food is part of the healing process. The only requirement we ask of food pantries is that they make every effort to purchase food with the highest nutritional value for the children," said Jo Poshard.
"In another month or so, we will be giving our spring grants to social service agencies that are working to heal the emotional and psychological damage inflicted on many southern Illinois children, but our first step is to help heal the hunger," said Glenn Poshard.
"A several thousand dollar grant to a local pantry may not sound like much, but often the pantry can use that money to leverage greater purchasing power with federal food banks and other organizations with whom they work," added Jo Poshard.
Area food pantries receiving grants from the Poshard Foundation include:
Arrowleaf Client Choice Food Pantry, Cairo
Ava-Trico Area Food Pantry
Benton/West City Ministerial Alliance
Bethel Temple Evangelistic Ministries, Mounds
Blessings in a Backpack, Goreville
Cambria Food Pantry
Carterville United Pantry
Centralia Community Benevolent Association
Chester Area Christian Food Pantry
Christian Community Compassion Center, Harrisburg
City of Hurst Emergency Food Bank
COPE - Christian Outreach Program Emergency Food Pantry, Metropolis
Crosswalk Community Action Agency, West Frankfort
Daystar Community Program, Cairo
Du Quoin Food Pantry
Emmanuel Temple Ministries, Metropolis
Faith Liberty Mission Church Food Pantry, Du Quoin
Friends of Jesus Food Pantry, Equality
Gallatin County Food Pantry, Shawneetown
God's Pantry - Caledonia Community Church, Olmsted
Good Samaritan Ministries, Carbondale
Grand Tower Food Pantry
Greater Galatia Food Pantry
Hope's Entourage, Inc., Mt. Vernon
Hands of Hope, McLeansboro
Harvest Deliverance Food Pantry, Harrisburg
Herrin Community Pantry
Herrin House of Hope
JC Manna Mission, Johnston City
Jesus es el Senor UMC - Joe's Mall Food Pantry, Cobden
Least of the Brethren Ministry, Pinckneyville
Loaves and Fishes at Anna United Methodist Church
Marion Ministerial Alliance
Ministry of the Broken-Hearted Food Pantry, Christopher
Mobile Food Market, Colp
Murphysboro Food Pantry, Inc.
Park Avenue Baptist Church Food Pantry, Mt. Vernon
Roads Church Pantry, Norris City
St. Kateri Snackpack Program, Ridgway
Salem Lutheran Church, Jonesboro
Sesser Valier Area Lifeline
Shawnee Development Council, Inc., Karnak
Sparta Food Pantry
The Promise, Marion
Thebes Food Pantry
Thompsonville Community of Christ Food Pantry
Victory Dream Center, Carbondale
Vienna First Baptist Church
We Love White County, Carmi
Whiteash Foodbank, Marion
---
April Child Abuse Prevention Kick-Off
(Carterville, IL | April 1, 2022)
On April 1st, Prevent Child Abuse Illinois and the Illinois Department of Children and Family Services, in partnership with The Poshard Foundation for Abused Children and other community organizations, will be holding a press conference to launch April Child Abuse Prevention Month 2022.
Guest speakers include Dr. Stephanie Chaney Hartford, Assistant Provost of Academic Affairs, John A. Logan College; Jo Poshard, Executive Director, The Poshard Foundation for Abused Children; Brittney Hale, Program Assistant, Prevent Child Abuse Illinois; Stephanie Grigsby, Illinois Department of Children and Family Services; Betti Mucha, Executive Director, Perry-Jackson Child Advocacy Center; and Evan Owens, Associate Judge on the Second Judicial Circuit Court. The event will include a proclamation reading and information regarding the prevention of child abuse and neglect.
"Our world has changed. Everyone talks about getting back to normal, but the truth is we have a new normal. This new normal includes realizing that things can change in an instant. understanding that we have a responsibility to protect each other, and knowing that we are all in this together," said Denise McCaffrey, executive director of Prevent Child Abuse Illinois. "Child abuse prevention needs to be part of this new normal. April is the perfect time to spread the message that all children deserve great childhoods, and we all have a role to play in keeping children safe." Child Abuse Prevention Month has been observed each April since its first presidential proclamation in 1983. Since that time, millions of Americans have participated in this national campaign. Individuals, organizations and communities across the United States plant pinwheels, tie ribbons, organize trainings, host fundraisers, and support a multitude of other activities celebrating healthy, happy childhoods and raising awareness that all children deserve to grow up in nurturing, safe homes.
"The past two years have been extremely difficult for all of us. While our schools, businesses, shops and restaurants were closing, reducing hours or 'going remote' the support services we provided to families in crisis became even more important as parents lost jobs, children faced disruptions to a stable schedule and the pandemic weighed heavily on the mental health of so many families. Through it all we never wavered from our mission to strengthen families and keep children safe," said Illinois DCFS Director Marc D. Smith. "We found new ways to support the families we serve. We finalized adoptions over Zoom; created a new mobile app so our youth in care can stay connected to their loved ones, caseworker and support system; and overhauled our online child abuse and neglect reporting system to make it more user-friendly and easier for anyone to report suspected abuse or neglect and keep children safer. And now, we are coming out of the pandemic stronger and more resilient than ever." Please join us April 1st to show your support for all children and their families. This event will be open to the general public.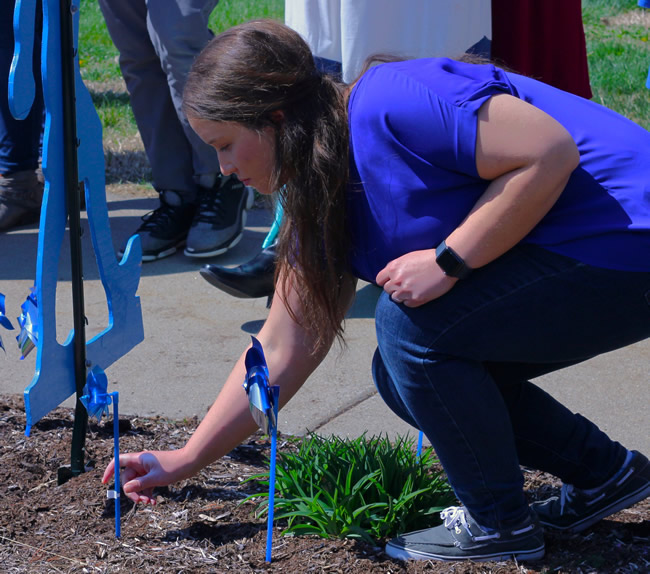 ---
Carterville Lion's Club Donation
(Carterville, IL | January 5, 2022)
The Carterville Lion's Club donated $650 to the Poshard Foundation for Abused Children to help with the purchase of toys for abused, abandoned and neglected children in our area. Several members of the Carterville Lion's also attended and assisted with the toy giveaway.

L - R: Wayne Morris, President of the Carterville Lion's Club; Jo Poshard, Director of the Poshard Foundation; Phyllis McCowen, office volunteer of the Poshard Foundation and head of the annual toy drive.
---
Please help us raise money for abused, abandoned, and neglected children in Southern Illinois, with a secure credit/debit card donation.